(YOUNG ADULT) Deep Blue Crew 3 Pair
$25.99
$0.00
Socktopus socks are designed to be comfortable, colorful, fun socks that help protect our oceans.
With your purchase, you will not only be getting one of these fun characters, but you will be joining us in making a real environmental impact. 
Material:

85% Repreve*




13% Nylon




2% Spandex



Ages: 9 - 12 years
Care: Machine Washable
Sizing: 1 - 5
Did you know: Over 8 million pieces of plastic pollution ends up in our oceans, every single day? At Socktopus Ink, our mission is to reduce the amount of waste that ends up in our oceans—one sock at a time. Founded in beachy, beautiful San Diego, we were inspired by the beauty of the ocean and determined to protect it. That's why we've committed ourselves to protecting the waters we love and the creatures that call it home. Every pair of socks you wear makes sure that one less piece of plastic pollution ends up in our oceans.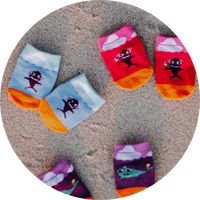 Moisture Wicking
Keep your feet feeling dry even when you're running, jumping or playing while wearing your Socktopus Ink socks.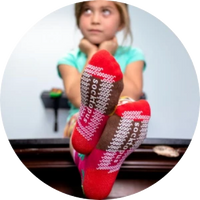 Soft, Breathable Woven Fabric
They just feel good on your feet. This light weight fabric keeps your comfy no matter where and when you're wearing them.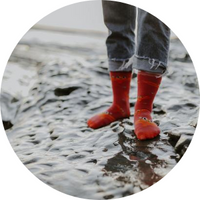 Seamless Toe
No weird, awkward bumps from toe seams here. Just a smooth, ocean-friendly sock that your feet will love to be in.
1 Water Bottle
At Socktopus Ink, our mission is to deliver a positive message to children and parents, while informing everyone that a cleaner future is in their hands. Every sock made prevents a water bottle from entering the ocean!
Put Your Best Foot Forward
Each pair of socks features one of our fun characters: from Bobtopus the Octopus to Finley the Shark and Bubbles the Whale, their personalities jump (literally!) off your feet; our characters hope to inspire everyone who wears these socks to put their best foot forward... by saving the ocean, one sock at a time!
What People Are Saying
Jen Strathmore
"Just got my Socktopus socks for my daughter (who is the world's pickiest child when it comes to clothing), and she will not take them off! She loves the knee high style with the cute and unique designs! Once I told her that the socks were made from recycled plastic and are helping to keep the ocean clean, she told me to go and buy more!"
Jesse Cunningham
"By producing Socktopus socks we are helping eliminate ocean plastic by using 100% recycled plastic bottles to create our flexible, durable, and fun socks for kids."
Charlie Partridge
"These socks are fun and durable for all ages. Knowing that these socks also help save the ocean made this purchase a no brainer!"
Save the Ocean, One Sock At A Time
When you support ethical clothing companies like Socktopus Ink, and make sustainable purchases, you automatically lower your average impact as a consumer, and inspire your kids to do the same. Let's work together to save the ocean, one sock at a time.
Ships 1-3 Days After Order
Frequently Asked Questions
Socktopus Ink is a brand that is trying to create cleaner oceans for future generations. Located and founded in San Diego, California, Socktopus Ink focuses on ocean conservation and general global climate awareness to set ourselves on a path toward a cleaner tomorrow, today. Our current mission is to "save the ocean, one sock at a time." Our first product line of bright, playful, and quirky socks are manufactured using upcycled materials so that every purchase from Socktopus Ink prevents a plastic bottle from making its way into one of the world's oceans.
We know that no one is too small to make a difference. That's why we're working to inspire millions to take a stand for our oceans and to make a difference in any way possible. By creating a proprietary upcycled material, called repreve, out of plastic bottles, we are helping people make an impact through their Socktopus Ink purchase. This special recycled material is then blended with nylon and spandex to create our final sock designs that are bright and colorful—making them perfect for our customers of any age. From babies to adults, we believe that no one is too young to help fight for the future of our planet.
What sizes do your socks come in?
If you are over the age of 6 months old, we probably have a sock that will fit you! At Socktopus Ink, our goal is to help parents start the conversation with their children about protecting the planet. To help them do that, we've crafted our product in a full range of sizes for every age, from babies to adults. We specifically offer socks in baby, toddler, kid, young adult, and adult sizes so that anyone can wear our products. 
Do you ship internationally?
Yes! We provide global shipping options. Our mission to fight for our oceans isn't limited to just one place or country. We're proud to provide worldwide shipping for our customers so that anyone, anywhere can join our fight against plastic pollution. Our goal is to help people everywhere step up for tomorrow, today, and we're happy to help people do that around the world. By spreading our cause to the far reaches of the world through our playful socks, we hope that we can get millions of people to help make a difference against plastic pollution. Every change, no matter how small, makes a difference—including purchasing a pair of Socktopus Ink socks.
At Socktopus Ink, we're a mission-driven company that is fighting back against the plastic in our oceans. Though we are based in San Diego, California, we are working with customers around the world to realize our ultimate goal: cleaner oceans for everyone, and especially younger generations. By developing socks that help prevent more plastic bottles from entering into our waters, we hope to build a community that is working together to protect our planet. Our company and our customers think carefully and thoughtfully about the products they purchase to protect our future.
Do all your socks have grip on the bottom?
At Socktopus Ink, we create products that are perfect for customers of any age. That's why we've outfitted our baby and toddler socks with a grip on the bottom of each pair to help increase safety. Our products of other sizes do not come with a grip on the bottom.
Whether with or without grips, each pair of our socks also features one of our characters for a fun take on our eco-friendly values. Bobtopus the Octopus, Finley the Shark, and Bubbles the Whale are our cartoon characters that help parents introduce the topic of pollution and recycling in a stress-free and fun way.
We offer our products in a range of sizes: Baby, toddler, kids, young adults, and adults. All of our socks are made from a proprietary blend of materials and with our own special fabric called repreve that is made from upcycled plastic. All of our socks, including the designs with grips on the bottom, are made from 85% repreve, 13% nylon, and 2% spandex. This blend of materials means that the socks aren't just made from recycled fibers, but also that they are the perfect blend of stretch and support to make them comfortable enough to wear all day.
Size Chart
Size Chart